ISO 27001
The most internationally recognized Information Security standard.
Inspire customer confidence in your products and services with ISO 27001 certification with Best Practice.
What is ISO 27001?
---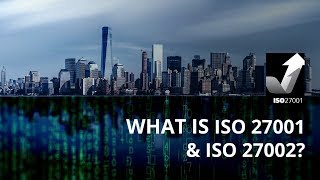 ISO IEC 27001:2013 is an internationally recognized Information Security Management System (ISMS) standard. ISO 27001 is the framework for the requirements to manage your organization's information security risks. ISO IEC 27001:2013 Information Security Management standard, when implemented, is a strategic activity that preserves the confidentiality, integrity and availability of information by applying risk management processes to adequately manage threats. It is the most recognized information security standard in the world. It is applicable to organizations of all sizes and industries, regardless of the products and services it offers. We are JAS-ANZ accredited to provide certification to this standard. Find out more on what ISO 27001 is with our Trade Secrets here.
---
How to create an ISO 27001 system?
---
Your system has to meet the minimum requirements before you can be certified. Here, we outline the steps to creating your management system for certification. 1. Understand the intent of ISO 27001. Read through the standard and familiarise yourself with the terminology. 2. Understand the requirements set out in ISO 27001. Develop your management system according to the standard. For more information on this, have a look at our Trade Secrets. 3. Perform a gap analysis to identify how ready you are to become certified. This will highlight any areas that need further development. Have a look at our ISO 27001 PDF Gap Analysis Checklist here. 4. Undergo the process of Certification. We will need to evaluate your organization to ensure you are compliant to ISO 9001:2015 with a Best Practice Assessment. Find more information on the process here.
---
What is the latest version of ISO 27001?
---
ISO IEC 27001:2013 is the latest version of ISO 27001, replacing ISO/IEC 27001:2005. The standard was updated in 2013 to meet the requirements of today's rapidly growing information security risks. It provides a framework to preserve the confidentiality, integrity and availability of information by applying risk management processes. It is an emerging standard, as information risks and threats become more prevalent.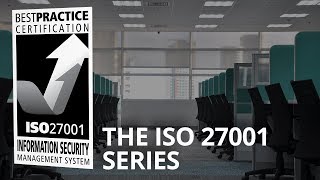 ---
What does it mean to be ISO 27001 certified?
---
When you are certified to ISO 27001, you are able to show interested parties, stakeholders and customers that you have met the requirements set out in the ISO/IEC 27001:2013 standard. ISO 27001 gives confidence that your organization adequately manages risks, and that your information retains its integrity, and is confidential.
---
How to get certified to ISO 27001?
---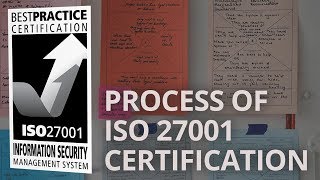 The certification process has four steps. 1. Gap Analysis (optional): The process begins with an optional gap analysis to evaluate your management system against each clause of ISO IEC 27001:2013. 2. Stage One: The mandatory first step is a desktop assessment to evaluate your management system documentation, including policies, processes, management review records, scope and context as well as system implementation. It sets the foundation for the stage two assessment. 3. Stage Two: The stage two assessment is the final step of the initial certification process. To achieve certification against your systems, we need to verify that the documented requirements of the standard are implemented across the business. We visit your offices and premises as well as partake in discussions with relevant people in your business. 4. Certification: Once your stage two assessment is verified and the process is complete, a 'Statement of Certification' is issued, confirming compliance with the relevant standard.​ This certification is valid for a three-year period from the date of issue. Surveillance assessments will need to be performed on a regular basis to maintain your certification. Contact Us with any questions you may have, or to find out more about the certification process.
---
Why is ISO 27001 required?
---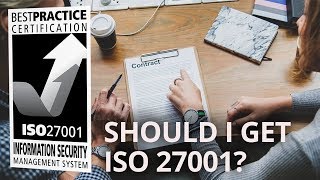 ISO 27001 is required to show customers, suppliers and stakeholders that you are able to keep information and data safe and secure. To become certified to ISO 27001, companies need to undergo evaluation against the standard, and need to have ongoing surveillance audits to ensure ongoing compliance. ISO 27001 evaluates how well a company can manage its information security risks.
---
What are the benefits of being ISO 27001 certified?
---
The main benefit of the ISO 27001 Information Security Management System is that your organisation is asked to look for areas of improvement in terms of its data protection. In the modern context, organisations are hosting vast amounts of data, and they have an obligation to keep it secure; ISO 27001 is one of the most effective ways of meeting this obligation. Benefits include: • Improved customer confidence • Increased reliability and security of systems and information • Alignment with customer requirements • Improved processes and strategies
---
What is ISO 27001 Australia?
---
ISO/IEC 27001:2013 is the most internationally recognized Information Security Management System (ISMS). It is an international standard, and is the same standard as ISO/IEC AS/NZS 27001:2015. The difference is only the time at which the standard was released in Australia, compared to the rest of the world. ISO 27001 belongs to the ISO 27000 'family' of standards for quality, known as the 'ISMS Family of Standards'. Information Security Management Standards provide the frameworks to ensure the confidentiality, integrity and availability of the organization's information.
---
How can I transfer my existing ISO 27001 certification?
---
You can transfer your ISO 27001 certification to Best Practice seamlessly. We will continue your current certification schedule, contact us for an obligation free quote. Why Best Practice?
We work to understand your business


We provide meaningful observations. It's more than just compliance or non-conformance for us.

We provide you with support services


We help grow and continually improve your business with training, webinars, YouTube videos and our industry magazine, Certified.

We have no hidden fees


Our rates are all inclusive and transparent. We don't have any hidden reporting, travel or preparation fees.
---
How long does ISO 27001 certification last for?
---
Once you are ISO 27001 certified, your certification expires three years after your certification has been approved. For ISO 27001 certification you will need regular audits to maintain your certification and keep it valid, known as surveillance audits. This is only applicable to IAF (International Accreditation Forum) certifications.
---
---
GET ISO 27001




CERTIFICATION
GAIN ISO 27001
CERTIFICATION
TRADE SECRETS NOW AVAILABLE